If you like puzzle games, you might want to download World Mosaics 2, released on Big Fish Games this morning!


World Mosaics 2 is a collection of puzzles sometimes referred to as Paint by Numbers. You have a grid which tells you how many squares, in groups, in each row and column are supposed to be filled in. Your goal is to solve the puzzle using your logic skills.



Notable features

Typical story about being magically whisked away to an unfamiliar time and place. You, as the main character write journal entries. This feature is intended to paste a theme on an otherwise standard puzzle game.

Each level gives you a set number of allowed mistakes.

Each mosaic creates a picture resembling some object, which is then discussed in the journal.

Each time you fill in a square correctly, sand is added to an hourglass. When the hourglass is full, you earn a hint.

The pasted on plot starts you out in ancient world history.

There is a clock which counts up as you play each level.
What I like
The interface and easy controls

The smooth animations and clean, well-designed graphics

Paint by Numbers puzzles
What I don't like
Weak music

Mediocre writing (Including a punctuation error on the first page of the journal!)

I found myself making silly mistakes on account of the way they cross out the numbers you've completed. Boundaries were not immediately apparent to me when working quickly.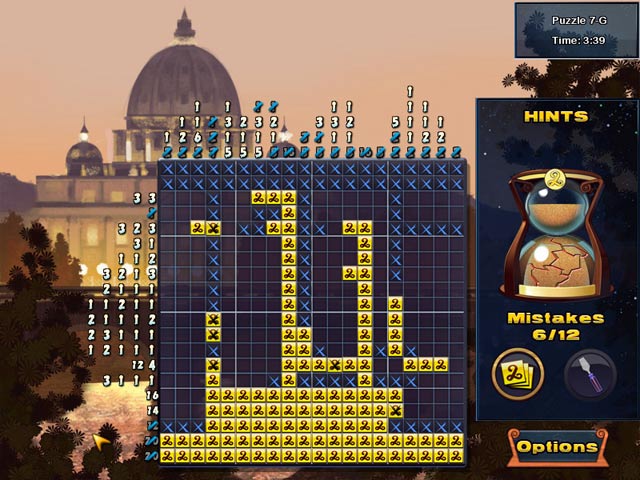 The family man's opinion
If you like logic puzzles (especially if you like Paint by Numbers puzzles), don't hesitate to grab this game. Sure, it's the same old puzzle you've played in black and white many times, but

this version has eye candy, sounds, and a bit of a story to go along with it

. Given the choice between this and a generic version, World Mosaics 2 is a no-brainer. I recommend you download it.


To check out the game, click below: