I just had a week of vacation, which I take each year for the 4th of July holiday with my wife's family. This year, I had a good chunk of time for computer gaming. My mother-in-law is also into casual computer games, so I been tested a bunch of games from
Big Fish
during the week. I'm going to give you my top recommendations based on everything I played tested during my vacation.
Marble Popper games
A marble popper game is where you control a little marble shooter that slides across the bottom of the screen, or rotates from a stationary position. There is tunnel that produces long strings of marbles of various colors. The chain of marbles makes its way along a path. Your goal is to destroy all of the marbles before they reach the exit at the end of the path. You destroy marbles by shooting marbles from the sliding unit you control. Your goal is to create groups of 3 or more marbles of the same color in the chain. So, if you hit a chain of 2 blues with a 3rd blue, they'll all disintegrate. That's basically how it works. The different games offer their own selection of upgrades and power-ups, and some have a story to go along with the levels (this is similar to what we call a "pasted-on theme" in board gaming).
Don't ask me why marble popper games are fun. There's just something fun about aiming the shooter and destroying marbles. Also, I find games more fun if they have good graphics, sound effects, music, and additional power-ups. I think any game should have ways to develop or gain experience benefits. So, here you go, my marble popper opinions starting with my favorite and moving down to those I didn't like so much.
#1: Luxor 3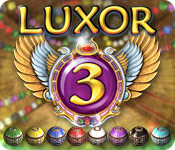 There are a number of Luxor games, and this one was my favorite. I like the upgrades system and the new sweet-looking shooters you can buy to replace your old one. I also like how this game uses a system of upgrades that effects all upgrades forever, as opposed to buying single use power-ups, as seen in Atlantis (see below). The music in Luxor 3 is good, and, as I found in the other Luxor games, it has the best background graphics of all the marble poppers. I also really liked how the marbles looked in this game. If you want, you can even buy different styles of marbles. Additionally, I like the Egyptian theme in the Luxor games. The other thing I like in this game and the other Luxor games is siwshing back and forth to collect all of the little treasures that fall from the marbles you break. If I had to choose a favorite marble popper at this time, Luxor 3 would be it.
The rest of the Luxor games would fit somewhere in my top choices, but I'm just going to include them all here in order of most fun to least fun. The one thing I will mention, which my wife didn't like about the Luxor games, is how the marbles feel heavier than the marbles in Atlantis (her favorite). The Luxor balls "feel" like they'r made of stone when you shoot them. They make nice clattering sounds when they break. The Atlantis balls feel lighter somehow. You'll notice in the table below that Luxor and Luxor: Amun Rising are together at the end of the list. This is because you can buy the Luxor Bundle Pack which includes both games - the first two in the series.
#2: Atlantis Sky Patrol

The first marble popper I ever played was the original Atlantis. Atlantis Sky Patrol is even better. This time there is some kind of pulpish theme to the game (I'm not exactly sure the story works yet...). The logo reminds me of Sky Captain and the World of Tomorrow. This game has a feature I haven't seen in other marble poppers, namely, there are small stationary defensive units (just a cluster of standard marbles) that you need to destroy in order to break the marble generator. Once the marble generator is destroyed, it can't spit out anymore strings of marbles. The other feature I like in this game is the upgrade system. You have 5 upgrades that you can boost - and they're all useful. One really cool one is your shooter's magnetism. This effects how close you have to be to falling power-ups for them to suck onto your shooter. The higher your magnetism, the easier it is to collect falling items. The music is also very fitting in this game. I recommend this one to marble popper fans. If you like this, you might want to try the original
Atlantis
. You can get it for free if you sign up for a free personal game space on the Big Fish Games website.
#3: Butterfly Escape

This game had some nice glassy marbles and a cute flying bug for the shooter. My favorite thing about this game was the power-ups. For instance, you can get pistols which punch a quick hole in the chain of marbles, or a bomb that you can direct, and best of all, the Gatling gun. With this bad boy you can just slide along the bottom blowing up every marble you can hit within a few seconds. Oh, and even better is the power-up called something like "Total Annihilation" or something. When you collect this power-up, the entire play field is blown up leaving a huge mushroom cloud. And all this power is being wielded by a little flying beetle. Try it today!
#4: Pirate Poppers

This is the only other marble popper I found good enough to even mention. It's not as good as any of the games listed above, but it isn't bad by any means. If you like the pirate theme, this might be up your alley. There is nothing particularly worthy of mention here. You shoot cannon balls from your cannon to blow up other cannon balls in this game. If you've exhausted the list above and desire more marble popping, this would be a good one to try.
Hidden Object/Adventure games
I didn't have time to finish any of these games, but I'll let you know what I thought of the ones I tried.
#1: Enlightenus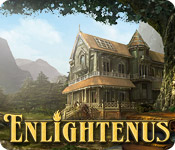 This game has a cool object combining system, and you travel around in an adventure game style. The story is about the stories written by a particular author. His stories have been scattered and you have to travel around to collect them, or something. The graphics are very good and the overall atmosphere is pleasant and mysterious. I'm looking forward to playing more of this.
#2: Mystic Diary: Lost Brother

This is a story about a magician whose brother went missing. The story is poorly written and feels a bit silly to me. I didn't like how the main character looked, but most of the other graphics were good. The hidden objects scenes were fair, but there were a couple items that I clicked on multiple times before I clicked in
just
the right spot to successfully acquire the item. I don't know that I'd want to play this game all the way through. It was a good effort, but didn't draw me in.
#3: Pahelika: Secret Legends

This one has nice graphics and excellent voice-over, but watch out - it's easy to get stuck, so the game feels kind of slow. But the answer is usually right where you are, so don't worry about it being too difficult. The puzzles I tried weren't very challenging, and the music was nothing special. Overall, I was unimpressed, especially with the relativistic worldview the game was blatantly pushing. The story is uninteresting, and most scenes lack color. I won't be going back to this game.
Strategy/Simulation games
#1: Youda Marina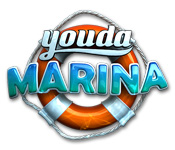 I had a really fun time with this game. You are in charge of a marina, and you build buildings and docks in an effort to make your marina successful. You build attractions, event centers, and utilities to attract people, who will pay money while staying on your property. You build lighthouses and docks and such to attract boats - it's the people on these boats who pay you to use your facilities. As you earn money, you can expand and build more buildings, gaining more money, and growing in prestige. The graphics were great, the music was fitting, and I'd say this is a game worth playing for strategy fans.
#2 Chocolatier: Decadence by Design

Here you will try to take over the running of a chocolate business. You will travel around the world talking to various people, buying ingredients, making chocolates, selling them, and becoming successful in the industry. There was some puzzling involved, but mostly decision-making with a buy-and-sell economic theme. I recommend this to all strategy and chocolate fans.
#3: DinerTown Tycoon

I haven't finished the game, so I don't know if it would become boring, but completing the first section of the game was somewhat amusing. Big Fish calls this a time management game, but it's really more of a strategy game. You have to do decision-making, marketing, and purchasing as you seek to create a successful restaurant chain while driving the evil restaurant chain out of town. The graphics are cute, and the restaurant management aspect is pretty fun. As you play, you can buy upgrades, new menu items, and better advertising. I think strategy fans would like this more than time management fans. Time management is minimal in this game, as far as I can tell.
#4: Tropical Dream: Underwater Odyssey

In this game, you dive underwater to take photos of fish. The graphics are cute, especially when you snap shots of the correct fish and they smile at you. I liked the unique style of the game and wish I had more time to explore its depths.
#5: Avalon

This is a realtime strategy (RTS) game. you send little fairies around to gather things, etc. I played a few minutes of this and had to stop. The game moves too slowly for my taste. It was also really hard to keep track of what was going on with how close the camera was to everything. I don't recommend this game for anyone who just wants to jump in and develop your position quickly. On the other hand, this would be an excellent intro to RTS games, especially for young female gamers.
Match 3 games
Big Fish has lots of Match 3 games for download. I'm just not a fan of the genre. I have a hard time seeing the draw to this variety of game. The version in Puzzle Pirates (Bilging) gives you a bit more control for setting up combos, but I didn't even enjoy that very much back when I used to play Puzzle Pirates a lot. But I did try a few Match 3 games this week which are worth mentioning because I think fans of the genre would like them.
#1: Asami's Sushi Shop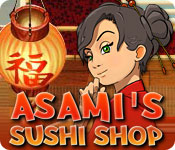 This game had good graphics, good music, and a nice Asian theme. Your trying to run a successful sushi shop by serving patients quickly and making money for upgrades to your shop. This game combines the restaurant theme seen in many time management games with Match 3. The beauty of this game is that you aren't just playing Match 3 for the heck of it. In this game, each of the combos you get in the Match 3 game are sushi items that go to customers who are placing specific orders. So you're choosing combos for a reason here, which made it at least a little more directed than standard Match 3. As you serve customers, they leave tips which you collect and use to buy upgrades. These upgrades help your shop in various ways. Then, there are mini-games to play from time to time. These were fun as well. If I had to pick a Match 3 game to play, it would be this one.
#2: Alchemist's Apprentice

This game had a standard Match 3 game, which covered most of the screen. Even though this was pretty boring to me, I have to mention that the artwork in this game is as good as I've seen. The scenery and all the details were just wonderful. The magic theme was fun too. If I was a Match 3 fan, this would be a good choice.
#3: Flower Paradise

This game made you get matches until you had turned all of the brown-background flower squares into green-background ones. Then, you get to buy plants and decorations and animals to place in your garden. The game was nothing special, but fans of the genre might like it. Lame music in this game.
#4: World Adventure

This one is pretty much just a bunch of Match 3 sessions with a few twists. You are trying to get items to help you on your journey as you travel around looking for a missing person. The graphics in this game were very good, but there was nothing in between sessions to keep you motivated other than some more text to read about the story. *yawn* Again, fans of the genre will probably dig this one.
Time Management games
I haven't played many time management games, but my wife likes them a lot, so I'm going to give you her feedback on the time management games she's played, with a bit of my own commentary added.
One thing my wife expressed is that she prefers the time management games which have you controlling more things on the screen, instead of just serving customers who wait at your counter. She likes moving people into chairs and sending different people here and there. This will be reflected in the comments below.
#1: Farm Frenzy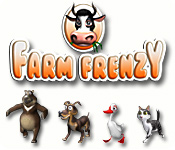 This first entry is my own choice. I was surprised at how fun this game was. You start off just watering the soil so that your ducks can eat. Then they lay eggs and you send them into town for money. Soon, you're turning eggs into egg solids and selling those, you're trapping bears and selling those, you're making muffins and selling those. Each level requires new upgrades and offers new challenges. All the while, you're putting animals on your farm, collecting goods, and producing new goods to sell. I found that I just wanted to keep playing. My kids liked watching this one.
#2: Mystic Inn

This is one time management game my wife and I have both played, and it's still among my wife's favorites. What I liked here was the quality 3D graphics, as opposed to the bubbly, brightly-colored bubble-gummy graphics I've seen on so many other such games I've watched my wife play. The theme is much more up my alley, with potions and wizards, an owl, a dragon, etc. The only problem I have with this game is how infrequently you get upgrades. You have to play so many levels before you get another encouraging boost in the form of an upgrade. You should be able to get this game for
free
through the
Hallmark promotion
.
#3: Wedding Dash: Ready, Aim, Love

I know. The title is probably making all you fellas wretch. Well, my wife and her sister both loved this one. Apparently it's a blast to race around making sure everyone is sitting where they want to at the reception and eating what they want to eat, and that all the wedding gifts are safely stashed away on the gift table. The report from the ladies is that this game is cute and has plenty going on to keep you busy. My wife reports that she likes this just as well as Mystic Inn.
#4: Lovely Kitchen

My wife liked this game for the same reasons she liked Mystic Inn and Wedding Dash.
#5: Jessica's Cupcake Cafe

In this game, my wife didn't like that you didn't get to organize seating, as in the games listed above, but she still enjoyed it. She liked how easy it was, and enjoyed the cute theme. The game even comes with recipes for cupcakes!