These days, there are so many casual games being released that I test very few of them. I'm always looking for the gems among the duds. Recently, a few new casual games caught my attention, so I played through the demos. Read on to find out what I thought of

3 Cards to Dead Time
Category:

Hidden Objects, Puzzles

Background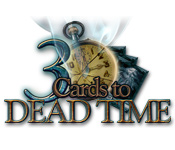 This was a strange experience for me. The developer, Big Finish Games, consists of the team who created my favorite adventure game series from the 90s, that is, the

Tex Murphy

series. Fans of the Tex series were greatly let down when Access Software was bought by Microsoft, and the Tex series was discontinued. The last Tex game,

Overseer

, had left us with a nasty cliffhanger, which would have no resolution.

So, when their first new casual game, 3 Cards to Midnight, was announced, I was eager to see what the old Tex Murphy team had created. It wasn't Tex Murphy, but it was something. Maybe it would be just as cool as the Tex series, right?

I followed the pre-release commentary as they developed the game, and became increasingly disappointed as they revealed the theme of the game - paranormal, creepy, tarot card stuff. Then, the game was finally released and I read some reviews to see what other people thought. Feedback was more negative than positive. How could my old favorite developers release something that was, apparently, mediocre?

Well, they recently released the second game in the 3 Cards series: 3 Cards to Dead Time. I decided to give it a try.

What You Do

One thing that the Tex team was good at was creating interesting and challenging puzzles. The same is true here. The various puzzles scattered throughout the game were enjoyable.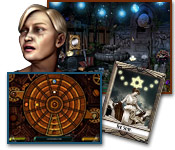 Most of the game is spent looking for hidden objects, but in an unusual way, which I found to be refreshing. Typically, standard hidden objects games give you a list of things to find. This mechanic has become very stale for me and I avoid it now. But in 3 Cards to Dead Time, you find objects according to a prescribed pattern. So, instead of a list of words telling you what to find, you have a collection of blank boxes. You are told to find something like "Objects that come in 3s." So then, you have to look around the scene for items that fit the given theme. When you find an item, its name appears in one of the empty boxes.

At other times, you have to find objects that go together. The empty boxes will be color-matched, showing you how many items go together. So, you might get 3 connected purple boxes, and one of them says "King." Looking around the scene, you'll find a picture of a queen, and then you'll locate a jack, which completes that series of related items.

You can choose between Casual and Challenging modes (I think that's what they were called). Casual mode just requires you to find fewer objects, from what I could tell. I would recommend the Challenging mode for die hard HOG fans. Casual was too easy.

My Opinions

If the game consisted of these types of scenes, with puzzles thrown in, I'd like it more. But, this game contains lots and lots of story. If the story interested me, or was presented in an attractive way, I might dig it. As it is, the creepy, weird story doesn't interest me, and with my kids hanging around, I simply clicked the SKIP button for each of the numerous cut-scenes. These scenes are made up of a series of still shots depicting awkward 3D-modeled characters, with voice-over dialogue. These scenes happen after each little task you complete.

The graphics and music are both very good. The mysterious music matches the theme of the game well.

So, while the graphics, music, and mechanics were all quite nice, the convoluted, family-unfriendly story and mood took this game down some notches. I would like to play more of this type of game if its strengths were applied to a more family-friendly story, and if the cut-scenes were just cut out altogether or occurred less frequently.




Awakening: The Dreamless Castle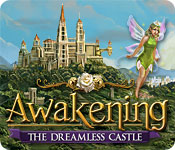 You might remember my review for Princess Isabella: A Witch's Curse. My guess it that, if you liked that game, you'll like Awakening: The Dreamless Castle. They feel very similar in the way they play.

What You Do

You spend the game walking around a castle finding items and using them in various locations. Sometimes you have to
complete hidden objects scenes and
solve simple puzzles.


My Opinions


The graphics and music are good, the interface is easy to use, and you aren't likely to get stuck for too long, although sometimes you might wander around wondering what you forgot to pick up in which room. It's not always completely obvious.

I would like this game more if it had something more original, innovative, or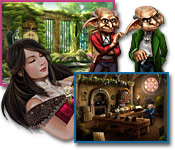 challenging about it. This game doesn't deliver anything special. It gets the job done fine, but doesn't excel. The puzzles are cake, the HOG scenes are standard, and the story is boring. I just wished this game had engaged my mind more.

But, for fans of the inventory/puzzles/HOG genre that we've seen more commonly in recent months, this game should hit the spot.




Eden's Quest: The Hunt for Akua
This was another interesting situation for me. I love puzzles in games. That was always my favorite part of adventure games, and I always like them in casual games. This game is nothing but puzzles with a storyline.
What You Do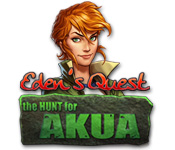 You solve puzzles. That's the whole point of the game. You go from station to station facing various types of brainteasers, math puzzles, and the like. You earn hints along the way, and each puzzle has 3 hints available. During my time playing the demo, I never had to use a hint. Some of the puzzles certainly stumped me, but they weren't timed, so I took my time figuring them out.
My Opinions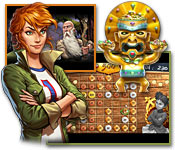 The presentation here is excellent. The character and scene art is superb - completely professional. This is unusual for the casual game market. The story is also intriguing and mysterious. It had me interested. As with all Sean Beeson soundtracks, this music is tasty.
But, having realized that the game is nothing but puzzles (kind of like
Azada
), I lost interest in pursuing the entire game. If I could get this game for free, or even as a Daily Deal, I might play all the way through. It's fun for what it is, but I can't bring myself to buy it.