At the end of 2006, Big Fish Studios released MCF: Ravenhearst, a super-creepy game that followed in the tradition of the other Mystery Case Files games.

Then, in late 2008, Big Fish blew everyone's socks off with the even more twisted MCF: Return to Ravenhearst. This was the first game in its class, combining hidden objects with an adventure game, and doing it with a high quality that has hardly been matched ever since. (Read my review!)

Then, just a year later, Big Fish released the next MCF game, MCF: Dire Grove, which turned out to be another game with the production style of Return to Ravenhearst, but with even more new features. This time around, as if it were the mid-90s golden age of adventure games, they included a series of live action cutscenes.

So, did Dire Grove live up to the greatness of Return to Ravenhearst? Today I'm glad to (finally) give you my opinions! Read on!


What I liked
All-around high-quality production
Wonderful video sequences
Not as twisted as Return to Ravenhearst
Good balance of puzzles, inventory use, and hidden objects
A good ending

What I didn't like
Can't replay the ending...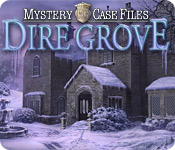 Quick Plot
Figure out what happened to a group of students who came to Dire Grove to do research.




Mechanics
HOG

:

You'll play through an ample supply of hidden object scenes, as with the other MCF games. You'll even recognize familiar sound effects as you locate items.

The hidden object scenes have just the right level of difficulty, as opposed to something overly difficult, like Luxor Adventures. You never have to find too many items, and they're never too hard to find. This is very welcome for those of us who prefer not to waste a whole lot of time poking around for hidden objects.

Another plus in the HOG department is the fact that the scenes actually make some sense. Most of the random junk seems at home in its scene. And you always get to keep one of the items when you finish a hidden object scene, adding it to your inventory.

As in many HOGs, you have a refillable hint meter.


Snow falls as you search the trunk.
How'd the driver fit all that junk in there?


Inventory

:

As with many good adventure games, a high percentage of your obstacles will be inventory-related.
You'll be regularly collecting various items and finding appropriate uses for them as you investigate your surroundings. Some of these items are acquired by clicking on an them in the normal environment, while others are gained by completing hidden object scenes.

None of the uses are too obscure. You'll usually be able to guess at which object will work for a particular task, without too much trouble.



Puzzles:

You'll have to solve several puzzles, none of which are too difficult. I wouldn't have minded even more puzzles, and more complicated ones. But the ones you get are certainly fun.

Don't expect a warm stay at this snow-covered lodge.
Highlights
Live action cutscenes:

I was an adventure game junky in the late 90s, when full motion video sequences were commonly showing up in games (the Tex Murphy series, Black Dahlia, Zork: Nemesis, and Gabriel Knight 2: The Beast Within, to name a few).

So, when I found out that this game had professionally produced video clips with live actors, I was eager to get my in-game-cinematics fix. The game did not disappoint. These video sequences are excellent. The acting is very good, the locations are real, and the style is fitting for the game.

These video clips are acquired by walking around and discovering camcorder tapes on the ground from time to time. Each tape unlocks a new video, and gives you a glimpse into the events leading up to your investigation.

I offer a word of slight caution:

some of the video clips are a tad unnerving

. You won't be exposed to anything grisly or frightening, thankfully. But more than one clip is certainly spooky and somewhat panicky. I think the majority of people will get a kick out of these, but I wouldn't recommend watching the video clips with little kids around.



Less disturbing:

Whereas Return to Ravenhearst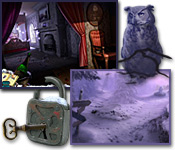 was like something out of a nightmare, Dire Grove is more like something out of the X-Files. The story in RtR left me wishing could repress it, while the story in Dire Grove is merely spooky and mysterious, in a way that allowed me to feel like my mind was safe.

I'm sure you'll have at least one unsettling "WHAT THE HECK?!" moment in the game, but it's still comparatively mild, and rather fun.

These surprise moments are likely to show up when you least expect them, so again, I advise you to avoid playing with small children nearby. Some of the content could easily disturb little minds.




Satisfying ending:

This is one thing you will rarely hear me say. But, in Dire Grove, they actually gave me an ending I could be satisfied with. Instead of the typical, "THE END. Thanks for playing.", the game ends with a nice video sequence to cap things off.

My belief is that a game, or book, or movie should reward you for investing your time. Well, this game gives you the payoff. If only more developers would put some effort into good endings.


Issues
No replays

: When I play a standard video game, I will frequently reload my last save, after completing the game. Then I'll play through the final sequence again just so I can watch the ending one more time.

As you know, most casual games don't have saves. The downside to this is that, if you want to go back later to a particular part of the game, you can't. Dire Grove is such a game. After completing the game, I tried to load my game again, and it just stuck me back at the very beginning. This means you'd better catch EVERYTHING the first time through, because, honey, if you want to see the ending again, you're going to have to work for it!

What can I say? I'm a sucker for good endings. But, this is my only grumble about the game.



Some weather vane, huh?
Suitable for the family?

I'm going to have to say no on this one. Most of the game is pretty harmless, and my kids did watch me play a good chunk of the game, but I just wouldn't want a child to be watching at one of those freakout moments. As I mentioned earlier, some of the stuff in this game would be disturbing to little kids.

While this game isn't nearly as unsettling as Return to Ravenhearst, and the story is much classier, my wife indicated that she might not want to play this one, having seen and heard some of the scenes.

For those of you who really want to know exactly what you'll encounter in this game, I have a spoiler window below. Highlight the white text within the window to read it.


One skeletal corpse, somewhat fake looking.
Ice-frozen, seemingly-possessed people who chant repeated phrases.
White, ghostly figures that appear and disappear in various rooms.
Panicked characters in the live action sequences, with jolty camera motions.
The family man's final ruling

This is one of the best casual games I've ever played. Big Fish Studios put a great deal of time and effort into making this a uniquely solid game. Attention to quality shows up everywhere from video production, to story, to graphics, to music, to puzzles. Every time I play a a rare gem like this, I sigh and wonder why so many mediocre games are released on the casual market. This game kept me interested the whole way through, and I loved the nicely-produced video sequences. All of the actors were good.

And for those of you who like

extras

, there is a Collector's Edition, which costs more, but includes, according to Big Fish,

bonus 'Easter egg' levels and puzzles that reveal secrets related to both past and future Mystery Case Files episodes
integrated Deluxe Strategy Guide, and
extra video outtakes, concept art, screenshots, and desktop wallpapers.
If you like HOGs at all,

get this game

, especially if you like the integration of adventure and HOG. You won't regret it.
You'll like the game if...

You like hidden object games
You like adventure games
You like a good story
You like live-action cinematic cutscenes
You like stories involving ancient lore

You won't like the game if...

You don't like hidden object games
You don't want to be spooked from time to time

| | |
| --- | --- |
| My rating: | |

If you want to play Mystery Case Files: Dire Grove, click below: