After playing Drawn: The Painted Tower at the end of last year, I was very impressed (Read my review!). The unfinished story left me wanting more - more of the same immersive gameplay and the same magical world.

Finally, Drawn: Dark Flight was released later in 2010. But did it live up to the greatness of the first game? That's what I'll tell you in today's review!
What I liked
Same whimsical setting

Fitting music

Engaging puzzles

Smooth gameplay

Fascinating atmosphere

What I didn't like
I can't think of anything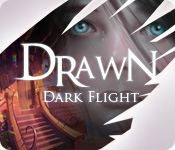 Quick Plot
Picking up where the first game left off, you need to use art, magic, and puzzle-solving skills to help Iris overcome the dark evil that holds power over the city!




Mechanics
Adventure

:

This game falls solidly into the adventure category. You are traveling around, solving puzzles and picking up inventory items.
What pleased me so much is the fact that the game doesn't leave you clueless or floundering at any point, which is a guarantee in most standard adventure games. In this game, you typically have a pretty good idea about what to do, even if you get hung up for a short time.
Non-HOG: I highlight this because I was so glad this game wasn't a HOG. Most games on the casual scene these days are HOG-Adventures. In Drawn: Dark Flight, you're free from cluttered rooms and item lists. Ahhhhh.
Highlights
Puzzles:

This game contained some of the most enjoyable puzzles I've ever encountered in an adventure game - and I've encountered a lot in my years as a gamer. Several puzzles are original in concept, which is exceedingly rare these days. So, puzzle fans, get ready for some fun.

Graphics/Atmosphere:

The graphics and mood are the same as they were in the first Drawn game. The fanciful locations will take you to another time and place, where magic is real and anything is possible. The hand-painted art style is masterfully crafted, and the cold, sad atmosphere is easily felt.
Music: As in the first game, the swelling, dreamy music does it's job to accompany you on your mysterious journey. The themes and instrumentation adequately convey the mood and emotion of the game and it's various scenes.


Issues
Puzzle bug

:

The only issue I ran into was a little bug. During a puzzle in which you have to shift and align a number of rotating pieces, some of the pieces became strangely oriented (perhaps between exiting the game and starting it again?), and I could never find a way to reorient them. I don't know what caused this, but solving the puzzle became impossible, forcing me to skip the puzzle.
When my wife played this puzzle on her game, the pieces all stayed oriented just as they should, and she was able to solve the puzzle. I just happened to get a glitched save game, I guess.
The kids were a little nervous about one or two characters and scenes - it's a pretty solemn and shadowy game, after all. Still, they enjoyed watching, and appreciated various elements of the story and scenery.
The fantastical elements will be attractive to children: things like gnomes, woodland creatures, and flying books.
The family man's final ruling
Excellent. Big Fish Studios has put excellent work into one more brilliant game. I was thrilled to be free from hidden object scenes in what turned out to be a pure adventure game - following clues, using inventory, and solving puzzles while experiencing an interesting story.
The graphics are finely painted. The lighting, music, and ambience manage to pull you into Iris' magical world. Certain scenes made me pause and say, "Whoa." I also like the way that they worked music into the game as a story theme.
Perhaps best of all were the puzzles. The puzzles were original, engaging, and very fun to solve. Ever since the golden age of adventure games (with titles like 7th Guest, Obsidian, Black Dahlia, and Tex Murphy), great puzzles have been hard to come by. Most puzzles now are repeats of the same thing you've done in all of the other games. But in this Drawn sequel, you'll experience fresh, challenging new puzzles that will have your mental gears turning happily.
I liked this game even more than the first Drawn game. It was that good.
Here you have one of the best games of 2010, if not THE best. Get it, and prepare to be immersed in an artistic world of good and evil.
You'll like the game if...

You liked Drawn: The Painted Tower
You like adventure games
You're tired of HOGs
You like solving good puzzles
You like magical stories
You like a dark, somber atmosphere
You won't like the game if...

You don't like adventure games
| | |
| --- | --- |
| My rating: | |